Symposium on Supply Chain Management & the Pandemic – A Blessing in Disguise (Karachi)
Supply Chain Management
Symposium on Supply Chain Management & the Pandemic – A Blessing in Disguise (Karachi)
| | |
| --- | --- |
| | Duration: Four Hours (2:30 PM to 6:30 PM) |
November 21, 2020
Venue: PIM, Karachi.
Background Overview
After subsiding of Covid-19 pandemic, the world scenario is going to look markedly different. The supply shock that started in China in February and the demand shock that followed as the global economy shut down exposed vulnerabilities in the production strategies and supply chains of firms just about everywhere. Consequently, it has become a challenge for industry to make their supply chains more resilient without weakening their competitiveness.
The pandemic has also revealed a need for improved strategic planning for manufacturers while taking the risks of global catastrophes in consideration. During this time, organizations experimented new ideas and approaches, many used out of desperation, and some of these on-the-spot inventions has improved their transilience regardless of what the future does or does not bring.
About the Symposium
The Covid 19 pandemic has affected almost every industry and made it challenging to manage the supply chain. During this time, companies experimented and made their own strategies for supply chain management. These strategies turned out to be a success which, under normal circumstances, may not have been adopted making the scenario a 'Blessing in Disguise'.
This symposium will provide a platform to the companies to share their experiences and discuss the same with other market leaders to refine their strategies. The outcomes of this symposium will help the companies evolve their future strategies in view of the experiences that they have implemented successfully. Company with the best strategy, implemented successfully, will be awarded with the 'Supply Chain Innovation Award'.
Our Guest Speaker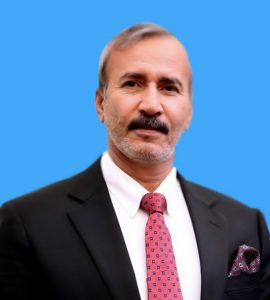 Rear Admiral Jamil Akhtar HI(M) T.Bt., Chairman KPT
Chairman Karachi Port Trust, Rear Admiral Jamil Akhtar HI(M) T.Bt., will also be joining us as a guest speaker. He has the distinction of commanding Pakistan Navy Surface Ships, Pak Marines and Special Forces setup of Pakistan Navy during his illustrious career as Naval Officer. Having the thorough knowledge of maritime affairs, fisheries and navy has helped him to successfully manage the affairs of the premier port of Pakistan during Covid 19 Pandemic.
Who Should Attend?
Company COOs/ CEOs/ Top Managements
Production Managers
Plant Managers and Coordinators
Supply Chain Managers
Operation Engineers
Personnel from related fields of industrial sector
Scholars and Researchers working on Supply Chain Management
Speaking 
Opportunity
Contribution to the conference will be selected on the basis of abstracts & papers submitted. Abstracts must clearly indicate new strategies, application-oriented case studies, challenges in the present domain results achieved & its importance. Submitted abstracts should be 300–400 words in length. We request speaker(s) to present some thought-provoking ideas; the interactive session would create a knowledge & ideas sharing platform.
Please send your abstract to invotek.engg@gmail.com.


Why Choose Our Event?
The key takeaways for our participants are,
Learning from the experiences of other market leaders
Innovative ideas for supply chain management in high risk conditions.
Participation Certificate
Supply Chain innovation award

About Instructors
Reviews
Detailed Rating
| | | |
| --- | --- | --- |
| Stars 5 | | 0 |
| Stars 4 | | 0 |
| Stars 3 | | 0 |
| Stars 2 | | 0 |
| Stars 1 | | 0 |
| | |
| --- | --- |
| | Duration: Four Hours (2:30 PM to 6:30 PM) |